---
Looking Back at the Year in Socially Engaged Buddhism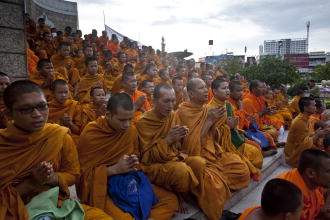 Buddhist monks praying for peace in Thailand, May 2010
[The original version of this post appeared on The Jizo Chronicles, Dec 31, 2010]
This is a good time to look back at what's been going on in the world of socially engaged Buddhism in 2010. (To get an idea of what's ahead for 2011, look at the Calendar of Events from The Jizo Chronicles.)
It's been quite a year, actually.
This was the year we lost Robert Aitken Roshi, fierce and dear Zen teacher, founder of the Diamond Sangha, and co-founder of the Buddhist Peace Fellowship.
Mindfulness and meditation continue to find applications in all kinds of interesting realms, from technology (like the first-ever Wisdom 2.0 conference) and education. 84,000 dharma doors indeed.
In my own life, I continue to be blessed with being in such a close relationship with Roshi Joan Halifax and Upaya Zen Center, and Upaya's chaplaincy program. I don't have to go more than a few dozen steps from my front door to be able to sit in the beautiful zendo there, and to hear teachings from  Joanna Macy, Fleet Maull, Ouyporn Khuankaew, Jimmy Santiago Baca, Sharon Salzberg, Kaz Tanahashi, Norman Fischer, and Father John Dear (all visited Upaya this past year). I've also appreciated my long-distance dharma relationship with Shosan Victoria Austin of the San Francisco Zen Center and the sangha there.
My practice continues to deepen and I am ever more aware of the subtle power of the dharma to transform suffering into joy. As the old year comes to a close and the new one begins, I wish you and your loved ones great peace, great equanimity, and great compassion.
I'm sure I missed a lot in the above recounting. Please let me know your experience and memories of engaged dharma practice this past year… leave a comment below.
Recommended Posts
May 12, 2014
April 09, 2014
April 08, 2014