My Buddhism in everyday life and at work: way – practice – study Lecture Spiritual Care Z13 3020 Part 2 Akademie für Palliativmedizin of the Malteser-Krankenhauses Bonn on 11/5/2020  Monika Winkelmann, Bonn My Buddhism I have always wanted to write a book with this title, but it was not meant to be […]
Monika Winkelmann, writer and poet, shares her Auschwitz Bearing Witness Retreat Report and how she experienced grief.
Save the date for the «Bearing Witness to Complexity in the Holy Land» retreat based in the Jerusalem area to bear witness to different voices and sites in the holly land.
The Auschwitz retreat, for the 23nd year, is an effort towards spiritual healing, peacebuilding across cultural, political, religious, and other divides, and a plunge into extremes of human nature: its darkest cruelty and most noble compassion. 
The Auschwitz-Birkenau retreat is the core program of ZPI's Bearing Witness programs. What follows is this year's impact report on the 23rd Bearing Witness retreat in Auschwitz.
Renee Fast Horse Iron Hawk and Manny Iron Hawk, two of the organizers and hosts of Zen Peacemakers' Native American Programs, have been instrumental in the opening of Lakȟótiyapi Okáȟtaŋ Wičhóičhaǧe Inc. (LOWI), a school dedicated to education by full immersion in Lakota language. In an interview with Rami Efal, they discuss language loss and immersion, Trauma, Prayer, and Spirit.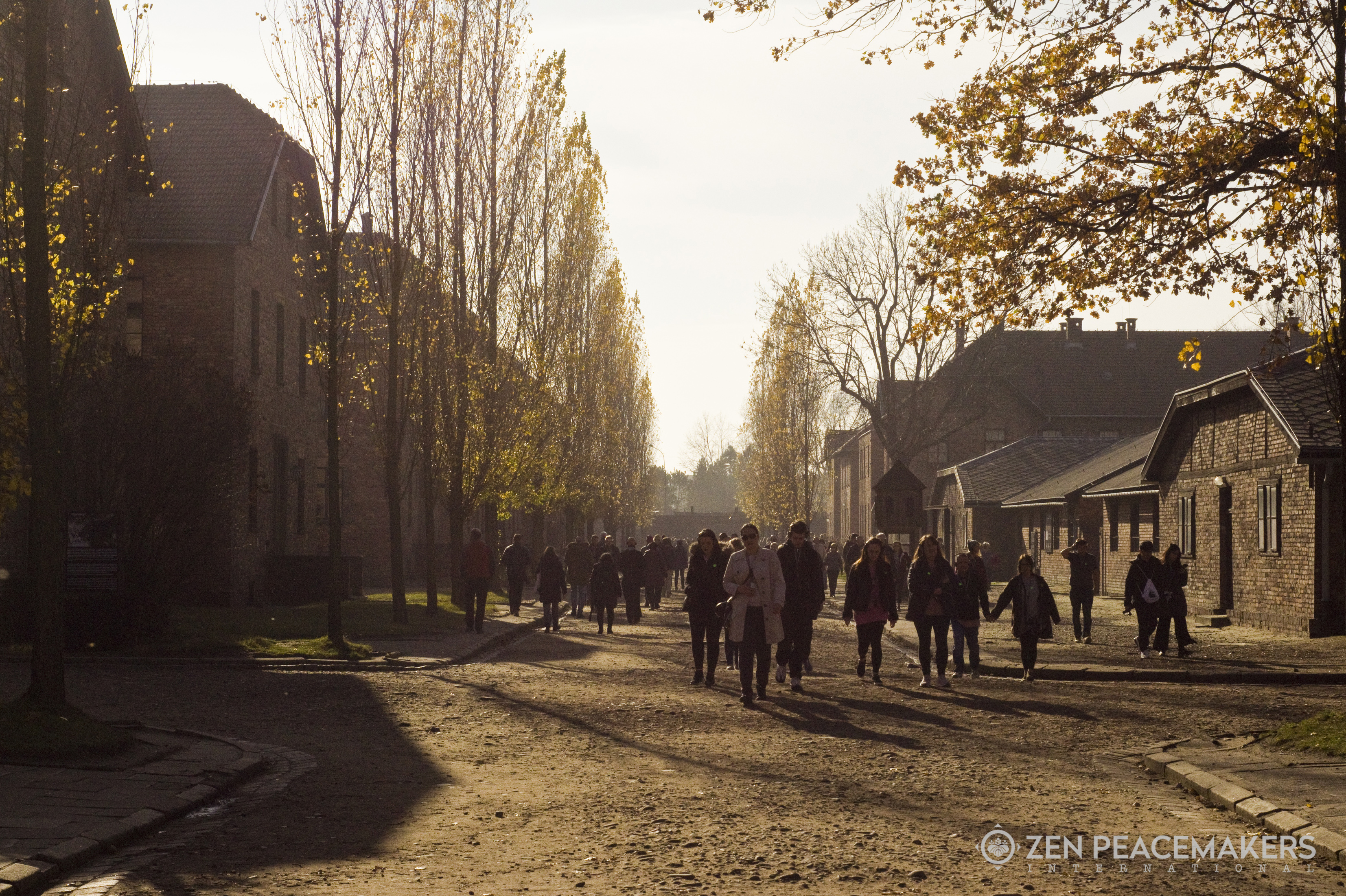 Since 1996 the Auschwitz retreat has been an interfaith and immersive cross-cultural gathering event for over 1500 peacebuilders from different war-torn countries such as Bosnia-Herzegovina, Palestine/Israel, Syria, Native American Nations and over 20 other countries. This 2018 impact report details some of the many positive results of the program.
BERN, SWITZERLAND. «Since her accident in May, she can only use her left arm. I put it around my neck and remind her to feel her feet and to trust the floor she is wearing. I hold her close to my body and like in a dance we manage together two steps to the night commode, where she sits down powerlessly…»
ISRAEL-PALESTINE. In April 2018 a group of Swiss, Brazilian, Israeli and Palestinian Zen Peacemakers visited Israel and Palestine.  Read Zen Peacemaker Iris Dotan Katz' reflection on the trip, with photographs.
VERMONT, USA. On Friday May fourth, Brattleboro Union High School held its annual Day of Diversity. The four presenters engaged sixty students on questions like "what labels do you use for others?", "what is violence?", "what is the relationship of identity and violence?" and "what is non-violence?".