ZPI encourages reflections from retreat participants, staff, members & others touched by our work and doing similar work from around the world, as part of the practice of bearing witness. Monika Winkelmann, writer and poet, shares her Auschwitz Bearing Witness Retreat Report and how she experienced grief. This text originally appeared in the June issue of the Austrian Buddhist magazine Ursache & Wirkung (Cause & Effect) No. 112 / 2020. Please following the link to read the full length German Language Version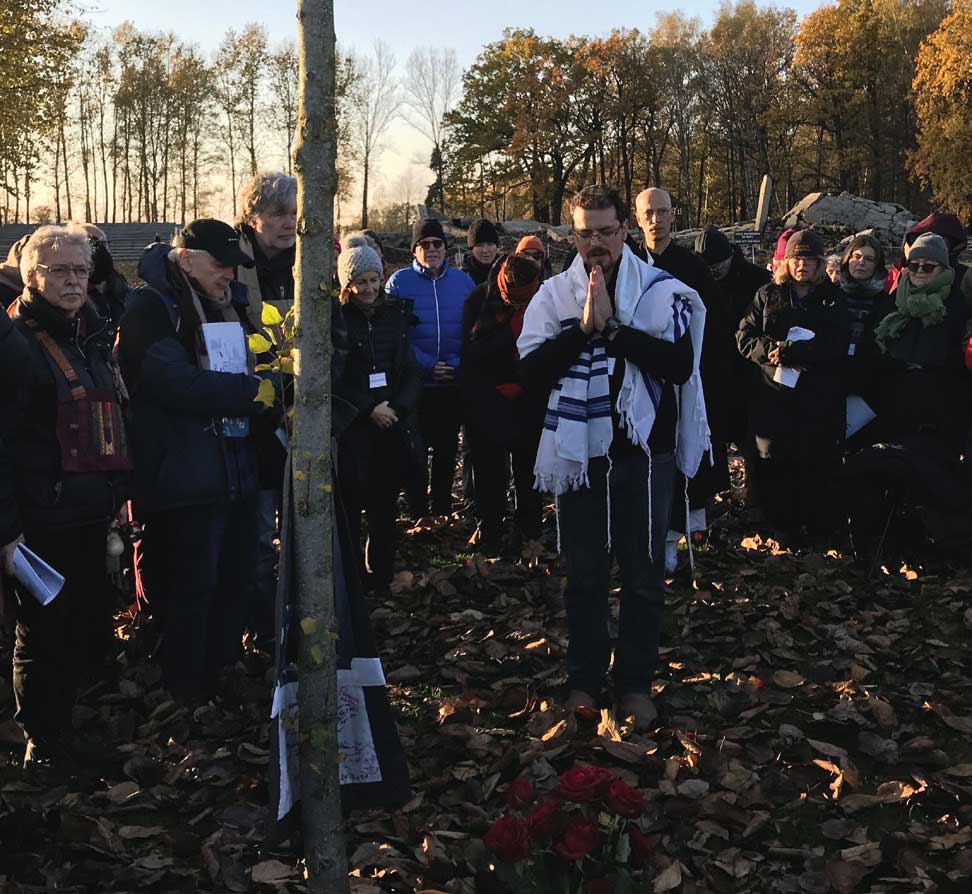 BONN, GERMANY. I registered for my first of six bearing-witness-retreats in the former concentration camp Auschwitz in 2010. Zen Master Bernie Tetsugen Glassman, co-founder of the Zen Peacemaker community and the Retreats in Auschwitz, was to be seen and heard on a huge stage in Frankfurt, next to the Dalai Lama, Anselm Grün and Gerd Scobel. He was particularly interested in the question of how we could bring the message to those who were not present among the thousands in the hall. Bernie called these interreligious retreats in Auschwitz 'plunges": they always began on November Monday morning in Krakow with a silent departure of the attendants from the city to the busses. For every participant it is a plunge into not knowing. Without bias, without intentions and without looking at the result, we are ready to fully engage with the situation. We want to perceive both the cries and the healing. During the retreat we leave our comfort zones again and again.
Auschwitz retreat has never been only there for those who were concretely affected by the extermination camp through their life story as victims or descendants. Bernie Glassman repeatedly emphasized that Auschwitz also stands for all other places in the world where genocides and extreme violence took place.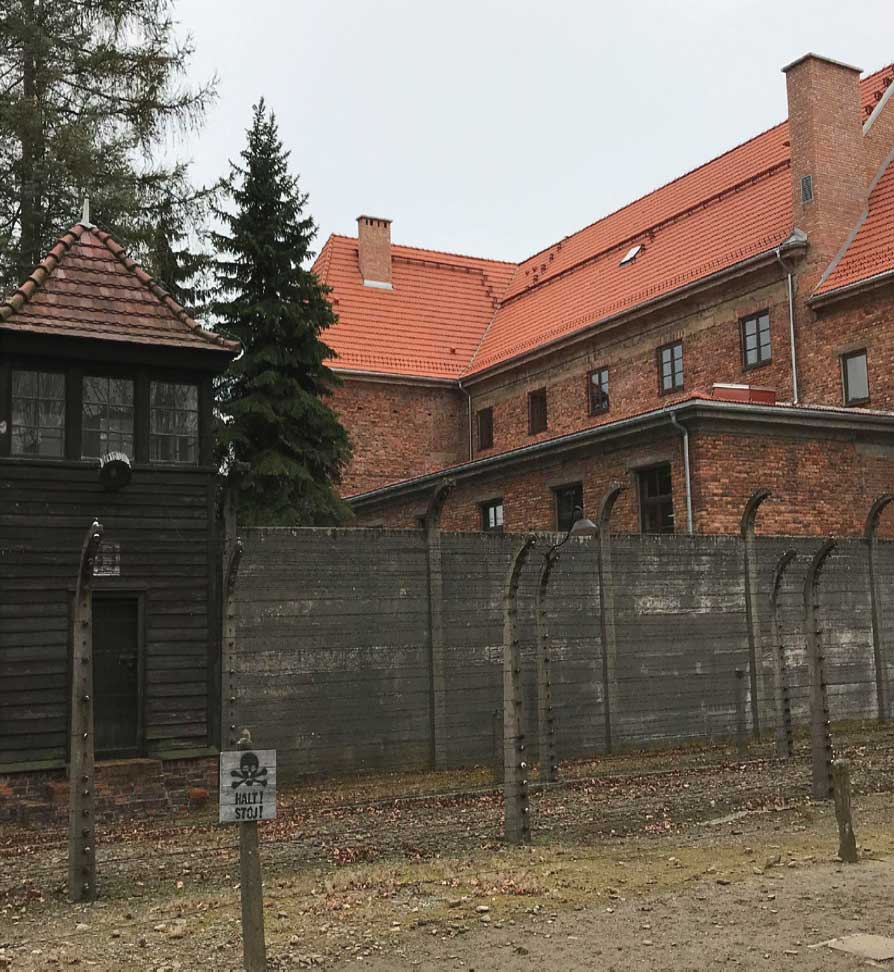 This invitation led to the fact that in the large group of participants many nationalities are represented, including numerous Jews, often few Germans on the perpetrator's side, also people from Rwanda or members of Indian tribes as well as Palestinians and Sinti. We all pray together and listen to the contributions about the immense suffering that was inflicted to the camp prisoners and that they experienced as a collective. The retreat means for me: Mourning is allowed for five days, but also before and after the journey to Auschwitz. To feel the confrontation with strong feelings and thoughts of one's own and also the emotions of the other participants and to get in touch with them. In daily ceremonies we recite the names of the murdered and thus give them back their face, their preciousness. There are long walking meditations in "noble silence", on the rails and around the ruins of the gas chambers. Standing in a circle we recite the Kaddish, the Jewish prayer for the dead.
We pray in all languages of the people present. Eyewitnesses who have survived share their memories with us. Slowly, imperceptibly, sometimes in leaps and bounds, a transformation happens. Jews, Germans, Palestinians and many other participants embrace each other, holding each other in pain in their deep touch and connection. The membrane to the dead sometimes becomes very thin, so that one seems to hear them.
Also the murderers on the towers, on the ramp, you may feel here and there. Sometimes there is also a loud prayer for the ancestors of some German participants, descendants of perpetrators. Is that right?, some friends ask themselves. How can it be otherwise, say others. Reconciliation in Auschwitz: a path, no goal. Peace is a gift for which we can definitely prepare the ground. Today I can talk about Auschwitz. I can see healing images inwardly, and I count Jews among my friends. Discussions in my family and in my Zen group, in other groups, about the past are possible.
It was beneficial for some people – I heard – that I beared witness on behalf of them and many known and unknown Germans. I have asked for forgiveness several times, silently and loudly. The dialogues and circle discussions during the retreat in the large international group contribute to my peace, to our peace, I hope and pray.
You were part of my stays in Auschwitz.
Through your support: years ago, or last year.
Materially or by giving me symbols, candles or money for candles, prayers or letters.
The miracle of "Dana", of donations, is this reciprocity, I travelled, pilgrimaged for you, with you.
In this way it was not only easier for me to register, but I felt surrounded and held by you.
Why did it take me so long for my report despite my great gratitude?
In the first place I found it almost impossible to write about this place, for a while. It is too painful, too complex and every year it was different again. In addition there were always smaller, medium and larger crises that shook me or us and caused me to delay everything I had planned to do.
Only the request for a contribution from Ester Platzer, the editor-in-chief of "Ursache & Wirkung", had the effect of a gong for me – I woke up and set to work. I was practically forced to take this step by my promise, and in addition I was not allowed to exceed a certain number of words. This centered me and let me work on the essence of my stays. Otherwise I would not have known what to leave out of what was important to me, my heart is still so overflowing today when I think back to the retreat days. I spent a total of thirty days in Auschwitz-Birkenau, and together with the preparation and follow-up days in Krakow, including three further training sessions in "Council", another 12-15 days can be added. No wonder that I am feeling so "at home" in Krakow and in the Center for Dialogue and Prayer, close to the camp.
The editor shortened the text once again and also took care of the framing part about Bernie and his work. For the fact that Ester has never attended a retreat before, she managed to capture the spirit of the meetings very well.
That is the reason for sending you exactly this text today.
I would like to explain my choice of images:
Last year, Eve Myonen Marko, co-founder of the Zen Peacemakers, author and Bernie's widow, together with Bernie's daughter came to the retreat for two days for a small, almost private funeral service. The first small photo shows Rami Efal in the center; he was director of the Zen Peacemaker community for several years and had already led it safely and graciously during Bernie's illness.
Some people, who for decades belonged to the team of the spiritholders' team of the Auschwitz Retreats, also travelled especially for this funeral service on Holy Ground to bow once more before their friend and master.
On the second small photo you can see the Auschwitz I area with the barracks: Here the retreat always begins with a guided tour in the different languages. One believes to know or have heard a lot. But this is not true. One knows nothing. Each time a different kind of suffering penetrates our ear, pierces us, or, as in my "case", we have simply become more open.
I once wrote a text calling Auschwitz the "University of the Heart". That is what it is, for me.
May we have compassion for all the suffering and those who suffer, all our days: now, here and everywhere.
Thank you for your practice.
Monika Jion
Please following the link to read the full length German Language Version
About the Author:
Monika Winkelmann, 67, now practices with the poet and zen-priest Norman Fischer of everdayzen. She earns her living in Bonn, Germany, with her vocation as a creative writing teacher. Attending bearing-witness-retreats with Roshi Bernie Glassman was a calling, to which she is still responding with her life. Bearing witness by writing and sitting in various circles is gaining more space in her life as a zen peacemaker. Practicing Zen in Auschwitz, Lampedusa and other underserved places and in the streets, with Roshi Michel Dubois in Paris, is continuously opening her heart. Roshi Genjo Marinello, in Seattle and Bonn, was her second zen-teacher, after her daughter Lisa.