Written by Michaela Haas for Huffington Post, September 21, 2015.
One winter day I got stuck with Richard Gere in Kathmandu, Nepal. He was traveling with friends of mine, and a snowstorm grounded their plane to Bhutan. We spent a delightful day in Kathmandu, exploring the local art shops. While he gracefully accepted the wishes of enthusiastic fans to give autographs, he talked about his hope that maybe Bhutan would be the one place on earth where he could travel incognito. Television was still a novelty in the tiny Himalayan kingdom, so he hoped the Bhutanese would not yet know him. When I met him again after the trip, I learned that he had had no such luck: Bhutan had videos, and just about every Bhutanese had seen Pretty Woman.
Fifteen years later, though, Richard Gere did indeed stumble upon the secret how to be invisible, even in the midst of New York. In his new film Time Out of Mind (out this month), he plays an elderly alcoholic who ends up on the streets. Gere wanted to shoot the film documentary-style, and he was worried his A-list status would attract too much attention.
No need to worry. Disappearing in plain sight is easy: instead of crossing the Himalayas, all Gere had to do was not to shave for a few days, don a dirty cloak, and ask people for spare change. Nobody recognized him, because nobody looked him in the face. "I could see how quickly we can all descend into territory when we're totally cut loose from all of our connections to people," Gere, a long-term supporter of the homeless, realized.
Nobody recognized one of the best-known actors of our times, though he did not wear makeup or an elaborate costume. By simply blending in with the homeless, he became instantly invisible. "It wasn't that folks didn't notice me; they could see someone asking for change from two blocks away," Richard Gere told Rolling Stone. "It was that they saw the embodiment of failure — and failure is something that people fear will suck them in."
This experience is universal: We prefer to shut out the forlorn and forsaken. We do not want to acknowledge suffering. We don't want to look it in the eye. And by doing so, we make the issue so much worse.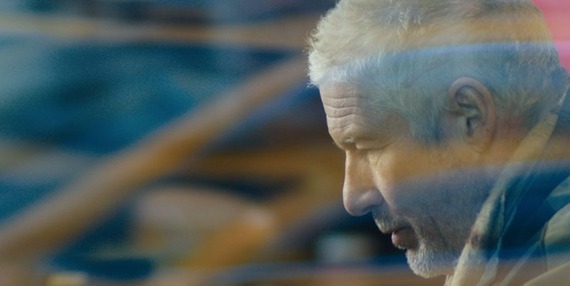 Richard Gere in Time Out of Mind
Every country has a homeless problem, but I cannot think of another developed country that scorns its homeless people more willfully, thus exacerbating their physical, emotional and mental health issues, sometimes beyond repair. Even the most heartless person would have to recognize that ignoring the issues means multiplying the human and financial cost not only for the individual, but for all of us.
It seems to me that there really is no place for suffering in our society outside of the designated zones we have specifically marked for it: hospitals, hospices, homeless shelters. How we, as a society, deal with suffering tells us at least as much about ourselves as the myriad ways we promote to achieve success.
Is it coincidence that America has the world's highest documented incarceration rate? Or that in 2014 the city Fort Lauderdale passed a law that bans feeding the homeless in public? We live in a world where you can shoot a young unarmed black man and walk free, but face jail time for handing a plate of vegetables to a vagrant.
We go out of our way so that we do not have to stare suffering in the face. We lock people up, make them go away. Out of sight, out of heart.
For my book Bouncing Forward, I've met a remarkable man who does exactly the opposite of what most of us do: Roshi Bernie Glassman, a Jewish-born New Yorker and the founding teacher of the Zen Peacemaker Order, is not afraid to witness suffering, but goes toward it, accepting it, working towards healing it.
For the past 24 years, Bernie has regularly taken people to the streets. They plunge into the unknown, and let the streets with their unwritten rules become their teacher. Bernie softly hums Leonard Cohen's lyrics about the crack that lets in the light. "That pretty much sums it up," he says, "that's what it's all about: taking off the armor, becoming vulnerable." The experience is much more intense than people realize. The retreatants sleep under bridges, beg for their food, and donate their participation fee to the homeless. "I did it because I wanted to connect with the homeless," Bernie says. "When you're homeless and begging, people completely ignore you; you simply don't exist. Once you have been ignored like that, you can no longer do the same to other people; it becomes impossible to look away."
You might have tasted Ben & Jerry's Chocolate Fudge Brownie ice cream. But you might not know that buying a pint supports a bakery with a unique hiring policy. The brownies in the ice cream are made at Greyston Bakery in Yonkers, New York — the bakery Bernie founded after deciding that what the homeless needed most were jobs. Greyston hires anybody who walks through the door willing to work. Education? Felonies? Age? Who cares? No resume required. "I don't care about their background. All I care about is, how is your work now?" says Bernie. The company motto, written in bright purple letters on the wall reads, "We don't hire people to bake brownies, we bake brownies to hire people." Bernie delivers his delicious indulgences — including a cheesecake named the best in New York — to gourmet restaurants, Whole Foods, and even to the White House. "For me, what was so fantastic is that the best cheesecake in New York, which means the best in the country, is made by people that our country considered garbage — that threw away those people, didn't consider they could do anything. I just love that."
When Greyston started, Yonkers had the country's highest per-capita homeless population. According to Bernie, the homeless rate has since been more than halved, while it continues to rise in most other cities.
We need to find ways of weaving our suffering into the tapestry of our lives, individually and as a community. We need to bravely explore a new relationship with pain and sorrow and ask where it fits in. We need to make room for it to fit in. Because it is already here.
Shutting it out just means shutting ourselves in. Connecting with the homeless is the only way to bring them home.
Learn more about Michaela Haas HERE