STATEN ISLAND, NEW YORK, EAGLE BUTTE, SOUTH DAKOTA USA. Zen Peacemakers International Bearing Witness program has extended to South Dakota in 2015 with the first Zen Peacemakers Native American Bearing Witness retreat.
Since then hundreds joined the annual events to sustain and develop the relationship with the indigenous of Turtle Island and bear witness to their trauma and resilience, as well as honor the majesty and wisdom of the land.
Most Integral to ZPI's strategy is to directly-impact the benefit of the Lakota community, among many other venues of support. This September ZPI has organized the travel of two of the program's Lakota co-organizers to visit New York City's Integration Charter School. Manny and Renee Iron Hawk are the founders of a Lakota Language Immersion School in South Dakota. Their visit to the NY school was an opportunity to exchange knowledge about nurturing learning environments for kids with special needs, as well as give Manny and Renee an opportunity to interact with NY teens and spread awareness about their experience as Native of this land.
MEETING THEM WHERE THEY ARE
What follows is a repost for Eve Marks Blog.
"Inagi!"
"Myotaka!"
Get up!
Sit down!
Manny Ironhawk is teaching the kids at Lavelle Prep a few words in Lakota. He and his wife, Renee, are in Staten Island, guests of Integration Charter Schools and their founder, Ken Byalin. Some 200 children, most from low-income families and many at-risk, listen to Manny and Renee as they describe the culture they are seeking to be saved by teaching the Lakota language in their immersion LOWI school in Eagle Butte, Cheyenne River Reservation.
What an odd collaboration! Charter schools in Staten Island, New York, one-third of whose students have special needs, reaching out to a Native American school halfway around the country.
But I'm not starting at the beginning.
At the beginning was Ken Byalin, offered the option of early retirement by New York City after a long career in leading mental health service centers. Ken and his family hosted me at their home overnight, and he reminded me that in early 2000 he flew out to California, where Bernie and I lived at the time, to talk to Bernie about this turn of events.
Over his years of work, Ken had noticed that young people with mental and emotional diagnoses, coming from harsh home environments, often lacking at least one parent, were rarely given much of a chance for any kind of education in regular schools. They were usually siphoned away from college, not even finishing high school. Unable to join any kind of economic mainstream, their life seemed to be over before they grew into adulthood.
Slowly and intently, assembling a dedicated team of educators who believed in a vision of giving children with special needs care and dedication, this quiet, almost diffident man founded Integration Charter Schools, integrating those children with others, primarily from low-income and immigrant families, and giving them the attention and skills they needed to graduate high school and go to college.
Ten years ago, he and his team opened Lavelle Prep Charter School, followed later by New Venture Charter School and then Nicotra Charter School. Admission is by lottery; anyone can get in. High school graduation rates are 100% and college admission rates are well over 90%.
We went inthave a maximum of 17 pupils per class, two teachers per class and 1-2 more aides. Some children have an aide sitting with them the entire class, giving them special help with arithmetic and reading. When children are too stressed and acting out, they go to small rooms for breaks with an aide to play with special toys and games for de-stressing and colorful exhortations to change your words, change your mindset.
"We meet them where they are," one teacher said to me as we walked the hallways. They don't yet have fancy sports facilities, but they have art, music, and movement rooms. And a big assembly room where they listened to Lakota elders describe their way of life.
"We only have one mother earth to take care of," Manny Ironhawk told the kids. "If we don't take care of mother earth, there will be no mother earth to take care of us."
There were questions:
How do you like to be called, Indians or Native Americans? "Native Americans, but my tribe is Lakota."
Why do you have long hair? "In our culture we never cut our hair except when people we love die. "
Is Washington Redskins offensive? "Yes, it is. Our tribal leader talked to the owner of the Redskins but the owner wouldn't listen to him."
What problems are on your reservation? "Abuse of alcohol and drugs. We have no jobs. There is 90% unemployment on the reservation."
What is your religion? "My religion is to be spiritual every day. I pray every morning. It's the same to me as going to church. I pray for my relatives and for everything that exists."
What is your culture's food? "Natural berries that we make into a pudding: chokeberries, plums, a wild turnip which we save for winter-time and that we use in all kinds of soups. Our main diet was buffalo, but that was many years ago."
Nineteen years have passed since Ken came out to California to talk with Bernie about his next steps after retirement. Bernie's dead, and almost 1,000 students are studying at Integration Charter Schools. Zen Peacemakers has done five annual retreats with the Lakota, and inspired by the LOWI School's mission to save a language and a culture, it flew Manny and Renee Ironhawk to New York to meet Ken and his deeply dedicated team of educators.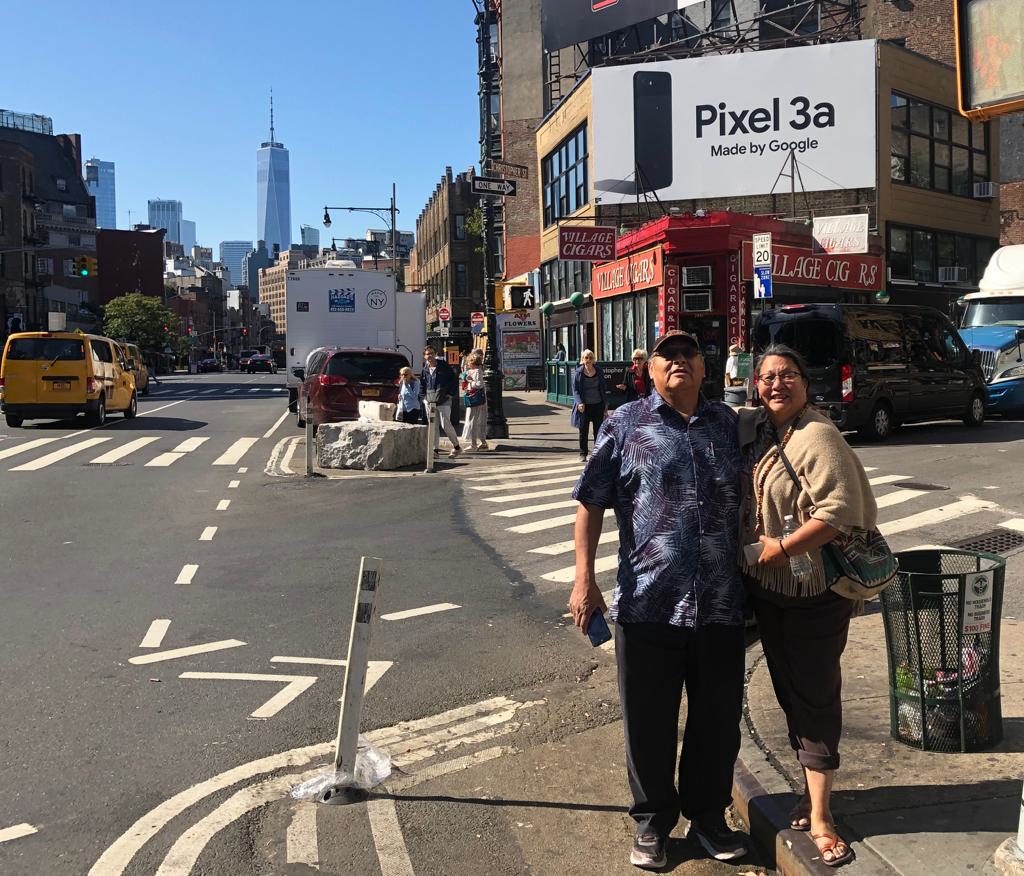 Ken used to come all the way up here to visit us, especially after Bernie's stroke. "I couldn't have done this without you, Bernie," he would tell the sick man again and again.
"We do our work in the cracks of society," Bernie always said. He never got to visit Integration Charter Schools. We were a large group yesterday, but I noticed there was always an empty seat somewhere for an invisible witness.
About the Author:
Roshi Eve Myonen Marko is a roshi in the Zen Peacemaker tradition and a board member of Zen Peacemakers International.  Through her numerous writings and her role as one of the leaders of the annual bearing witness retreat at Auschwitz-Birkenau, she has made the teachings of Zen in the areas of peacemaking and loves accessible to a broad audience.  Learn more at evemarko.com.